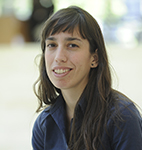 Magdalena Arrupe (Buenos Aires)
[The Literature Program of the Museum of Latin American Art, freelance Cultural Manager]
Born in Buenos Aires, Argentina in 1982. She studied at the University of Buenos Aires where she obtained her degree in Literature.
Since 2007 she is working in the Literature Program of the Museum of Latin American Art in Buenos Aires (MALBA) organizing conferences, readings, encounters and study workshops and book presentations. This program has invited more than 500 international and national authors throughout the years as well as to the museum's own International Festival of Literature in Buenos Aires founded in 2008.
Magdalena is also a freelance cultural manager for public and private institutions and worked as a coordinator and project manager for numerous cultural events. Some examples are Narrativas de lo Real, an interdisciplinary artistic encounters that discuss "realism" in arts (General San Martín University - 2013) and Finn (Ibero-American Festival of New Narrative - 2010), a festival that took place in Ushuaia, Argentina, to which 11 renowned writers from Latin America and a visual artist were invited to produce a fiction work staged in this particular location of the world.
Magdalena also works for a independent publishing house in Buenos Aires.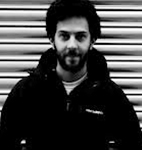 Herman Bashiron Mendolicchio (Barcelona)
[Researcher in Culture and Mobility and Art Critic]
Born 1979 in Italy, Herman Bashiron Mendolicchio holds a European PhD in "Art History, Theory and Criticism" from the University of Barcelona. He is PhD fellow at the research group "Art, Architecture and Digital Society" (UB), PhD associated researcher at the international platform "Global Visual Cultures", and invited Professor of the Cultural Management Programme of the University of Barcelona. His current lines of investigation involve the subjects of intercultural processes, globalization and mobility in contemporary art and cultural policies, the interactions between artistic, educational, media and cultural practices in the Mediterranean, the cultural cooperation and cultural diplomacy between Asia and Europe and the impact of new technologies on art, communication and contemporary society. He has participated in several international conferences and developed projects and research residencies in Europe, Asia and the Middle East. As an art critic and independent curator he writes extensively for several international magazines such as at Culture360 – Asia-Europe Foundation(ASEF), and ELSE – Transart Institute, is also co-founder of the Platform for Contemporary Art and Thought, Interartive (http://www.interartive.org). He is now a post-doctoral researcher at United Nations University.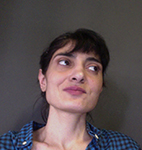 Amal Issa (Beirut)
[Director of Home Workspace Program / HWP]
Born 1979, lives and works in Beirut, Lebanon. She is the director since March 2013 of Home Workspace Program / HWP, an independent arts study program organized by Ashkal Alwan, The Lebanese Association for Plastic Arts.
Presently on its fourth edition, the HWP admits emerging artists and other cultural practitioners who wish to develop their formal, historical, and critical skills within Ashkal Alwan's infrastructure and network of resources in Beirut. Each year, the HWP's Curriculum Committee invites one or more Resident Professor(s) / RP(s) to lead that year's edition, with a thematic curriculum consisting of workshops, seminars, critiques, and one-on-one encounters with the RP(s) and with invited guest speakers. The HWP is a free-tuition program, admitting participants on a merit-based scholarship. Many of the activities in HWP's curriculum are also accessible to the public. http://ashkalalwan.org/about-hwp-study-program/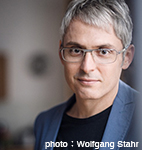 Tobi Müller (Berlin)
[Journalist for popmusic and Theater]
Tobi Müller was born in Switzerland and studied Literature in Zurich and Berlin. He had worked for almost ten years as an arts editor at Swiss newspapers and tv, specialising in theater and pop music. In 2009 he permanently moved to Berlin where he works freelance as critic, curator, presenter and author. He was a member of several juries, including Berliner Theatertreffen or Autorentheatertage at Deutsches Theater. For four years he had hosted a monthly pop talk show at Volksbuehne (Berlin). Currently he develops different formats for Deutsches Theater and is cowriting the third documentary play with his brother in Zurich, while still working as a journalist for several newspapers and also radio (Deutschlandradio Kultur). In 2013 he was called for the jury of Hauptstadtkulturfonds in Berlin, a federal fund for project based arts in the German capital.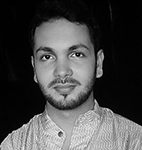 Jake Oorloff (Colombo)
[Playwright, Actor and Director]
Jake Oorloff is a playwright, actor and director based in Colombo, Sri Lanka. His most recent work Othered Histories was created on invitation and opened the Live Art Segment of the Colombo Art Biennale 2014. This performance referenced a previous work- My Other History, written and directed in 2012. In the same year, he directed The Gaza Mono-Logues– in collaboration with Ashtar Theatre, Palestine. In 2010 he directed The War Reporter in collaboration with the Goethe-Institut. Recent work as a performer includes, Unearthed (Colombo 2012), Absence (Colombo Dance Platform 2012), Letters (Colombo Dance Platform 2010). Jake's work is often inspired by personal narratives and accounts of lived experience. His theatre over the last decade, created against a backdrop of war has sought to present individual and counter-narratives embodying themes central to the struggle for individual rights and freedoms.
A co-founder of Floating Space Theatre Company, he served as its Artistic Director from 2007–12 and continues to work with the company to present his work.