2018/09/13
Human Resource Development in the Arts: Expertise and Complexity
President, Tama Art University
Akira Tatehata
Human resources development in the arts, at least in the old days, primarily meant the education of those seeking to become artists. The importance of the kind of human resources I discuss here—those who link artistic activities to society—has only been recognized more recently and we are still at such an early stage of figuring out how to cultivate them that it would be hard to say such systems are firmly in place. To talk about developing such human resources, too, is to cover an incredibly broad range including, off the top of my head, professions such as art administrators, art coordinators, art documentarists, art archivists, and art therapists as well as a growing number of occupations supporting the work of artists or linking art and markets such as arts councils, corporate patronage, art auctions, and art fairs. I myself do not have a clear grasp of the scope of such positions, but all are certainly professions that require experience in the field.
Of the jobs that have been drawing attention in recent years, one of flashier positions is no doubt that of artistic director at the international contemporary art exhibitions ("international exhibitions") now held in various locations. Typically, those named to serve as artistic director include veteran museum curators and independent curators. I myself have had the honor of being among them. An interesting trend at recent international exhibitions, though, has been the use of artistic directors who are not curators, such as three successive selections from genres other than art—architecture critic Taro Igarashi, photographer and essayist Chihiro Minato, and journalist Daisuke Tsuda—at the Aichi Triennale and two successive selections of musicians—Ryuichi Sakamoto and Yoshihide Otomo—at the Sapporo International Art Festival. There are also examples of artists serving as artistic director, such as Tadashi Kawamata and Yasumasa Morimura at the Yokohama Triennale. The young movie director Shoji Toyama has also been selected for the next edition of the Saitama International Art Festival.
Despite that fact that the position of artistic director for an international exhibition must surely privilege a wealth of experience, why is it that such people have continued to be chosen with no consideration for such experience, and have ultimately been able to produce results no better or worse than veteran curators? Certainly this is due in part because a cadre of assistant curators with experience in international exhibitions has stood at their side providing practical support. The fact is that it is the big things that are left to the discretion of the artistic director—developing the basic concept and making decisions about the artists who will be represented—while, for large-scale international exhibitions at least, putting together the actual exhibits is necessarily a collaborative process involving many people. Still, does this mean that anyone can serve as artistic director even without professional expertise as long as they are capable leaders and knowledgeable about art in the broad sense?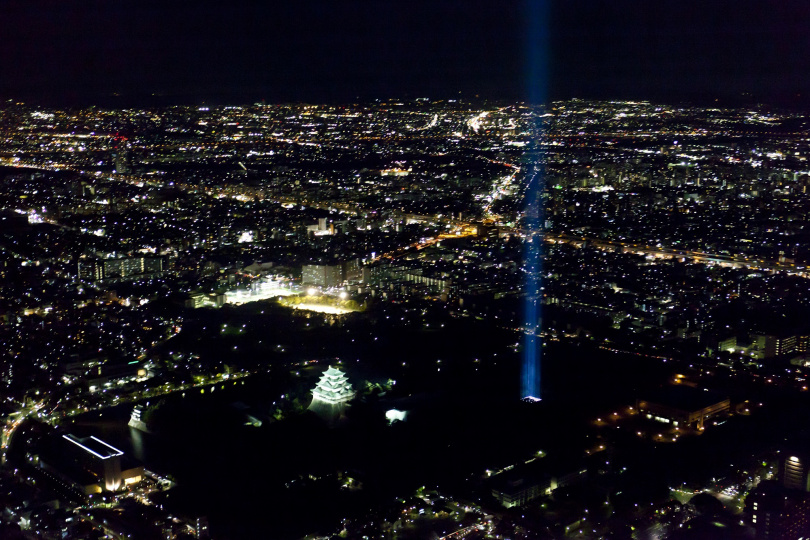 Aichi Triennale 2010 exhibition: Ryoji Ikeda's spectra[nagoya] with Nagoya Castle (Photo provided by Aichi Triennale Organizing Committee)
The answer is both "yes" and "no."The selection of those mentioned above was surely grounded in the hope that the excellent track record of each in his own area of specialization would translate into an outstanding vision and, to tell the truth, I think the risk that choosing only safe, veteran curators could result in projects that were all largely the same, conforming to the clichés of the international exhibition genre, was also probably behind the move to bring in non-expert talent.
There is value to this approach. If we think of international exhibitions and shows as a form of media, media literacy does not necessarily mean being able to conform to the content presented by experts. Literacy, rather, is the ability to read critically and, in the case of art, it is the artistic director who is charged with reading the situation in the world of art through the lens of new ideas. Experts in contemporary art, when planning international exhibitions, tend to try to uncover as much hidden talent as possible. Their very knowledge of the state of the field, therefore, leads to a huge bias toward emphasizing differences for the approaching exhibition, and this iterative rush to stay ahead of things paradoxically encourages methodological clichés. Outside talent, however, is capable of operating free of such bias.
Well, then, why can the answer also be "no"? The reason is that non-experts are not free of the risk of falling into different kinds of clichés. For better and for worse, their lack of experiential knowledge means they tend to see the limited information with which they have actually come into contact as the common divisor for the current state of things. Regardless of whether they embrace this or reject it, there is the risk of making decisions without fully grasping the big picture. For example, it is possible to see the art world as flooded with political "message art" or, on the other hand, to see an ongoing revival in formal thinking, but such ambiguous situations are difficult to judge without having continually watched things on the ground for a long period of time. Without such a perspective, it is easy to be distracted by one trend or the other.
Getting back to our main point, then, the question of whether artistic directors for international exhibitions should be professionals or those brought in from outside the field is not really a choice with only one answer. Both options offer possibilities and limitations, but the issue seems to provide a worthwhile perspective for resolving the dilemma of human resources development in the arts.
Frankly speaking, the process of cultivating an expert in a particular genre should include, as much as possible, the experience of curating or producing events in other genres, even if only for a short period of time. For me, the ability to take part on the ground not only in art events but also those related to film and the performing arts have been important opportunities that broadened my horizons while teaching me through experience that it is the fluidity of genre and boundaries between domains that have the ability to breathe new life into the situation with art.
The Kyoto Art Center, where I work part time as director, is a small-scale cultural facility with a repertoire ranging from cutting-edge art to traditional performance. It also operates an artist-in-residence program that plays an important role in cultivating art coordinators. We retain about seven new hires for a period of three years and, although each is assigned an area of specialization, all are thrown into working on the front lines on events in genres with which they have no experience. They are also involved in planning and making proposals. Older staff members are there to guide them but there is no "development system" to speak of. Nevertheless, to see them all apply themselves with such vitality and grow so quickly seems to demonstrate that on-the-ground experience with outstanding artists is the best way to cultivate good coordinators.
Experiencing diverse genres in one's youth need not necessarily conflict with deepening one's professional expertise. This may seem like a dilemma, but relativizing one's field of view surely, over the long term, further opens up the potential of one's own area of specialization.
The world of international exhibitions and art museums has recently seen the emergence of events with a multi-genre character. I look forward to the day when the next generation of flexibly thinking "experts" takes flight as super artistic directors.