Press Conference in 2011-2012 Programs
A press conference announcing new effort and the main lineup of Tokyo Culture Creation Project 2011-2012 was held in the conference room of the Edo-Tokyo Museum (Sumida Ward) on Wednesday, July 13.
This year, the Tokyo Culture Creation Project decided to schedule TOKYO CREATIVE WEEK from October 20th to 30th (11 days). With the aim of establishing "a global culture creation city TOKYO", the Project will disseminate Tokyo's culture to the world by offering a large number of different programs within the period, and also hosting International Visitors Program and FUTURE SKETCH Tokyo Conference.
For details, please refer to the information materials distributed at the press conference listed below.
Press Release PDF [258KB]
Material 1 PDF [131KB]
Material 2 PDF [74KB]
TOKYO CREATIVE WEEK planned calendar PDF [156KB]
Program planned calendar (From July onwards) PDF [245KB]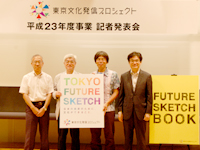 (From the right) Shinichiro Momohara, Senior Director of the Culture Promotion Division, Bureau of Citizens and Cultural Affairs, Tokyo Metropolitan Government; Katsuhiko Hibino, an artist; Taneo Kato, Executive Advisor for the Tokyo Metropolitan Foundation for History and Culture; and Masanori Sugitani, Senior Director of the Tokyo Culture Creation Project Office, the Tokyo Metropolitan Foundation for History and Culture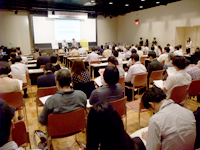 Press Conference (Mr. Hibino and Mr. Kato in a dialogue session)