2015/06/30
Towards the Promotion of Cooperation between the Public and Private Sectors
Chair, Council Board of Arts Council Tokyo / Executive Director, Association for Corporate Support of the Arts
Taneo Kato
I have always said that it is creation that is important, not consumption. The institutions in Japan that undertake promotion of the arts and culture are only interested in consumption, and do not concern themselves with creation. That is rare even by world standards.
From the point of view of people like me who have long been based in the manufacturing industry, it is utterly natural that production and sales are integrated. Nevertheless, in the field of the arts and culture, creation, which corresponds to manufacture, is not taken into account; it is only performances and exhibitions, which correspond to sales, that attract attention. Perhaps this is why, although Japanese culture is very sensitive to changes in fashion, the result is a culture of disposable celebrities which is incapable of producing true artists and artistic activities.
The mass production/mass consumption model of popular entertainment culture is important from the point of view of a consumer economy, but that is exactly why we should entrust its fluctuations to the market. Support for public goods and services not applicable to the market is a matter for government cultural policy and corporate philanthropy: this is the common assumption of an arts and culture policy established decades ago, and also a common theory in economics. That being so, it is inexplicable why the government intends to deliver the same old consumer market model for enterprise of a highly public nature like the development of cultural programs for the 2020 Tokyo Olympics and Paralympics.
Why is it that companies have somehow come to make a distinction between mass entertainment culture as a consumer product, and arts culture as a form of creative public product? The usual reform and innovation is demanded of businesses, and to that end they are always on the lookout for the latest trends and developments in society. It is the creative artists and developers who excel at expressing and transmitting social changes before anyone else. Therefore it makes sense for business to gamble on their foresight. That is why they always pursue challenges without fear. This is where you will find the source of new social services and product development of a highly public and public-interest nature. So even if popular entertainment culture is sometimes used for corporate advertising, great importance is attached to creativity in corporate philanthropy, and this is how corporate philanthropy makes the distinction between entertainment culture and arts culture.
Those who most resist the creativity of cutting-edge artists and creators are the specialists and experts with vested rights in the pre-existing culture system. The government is the same; even though it is an institution that essentially should be developing and providing new public services that anticipate the needs of society, it has a strong tendency to maintain existing services.
Take the example of urban government thinking surrounding waterside areas. Until recent years, the overwhelming tendency of urban government was what deserves to be called a policy of aversion to the waterside. For a long time, policy targeting urban development that coexisted with rivers, canals, moats, wetlands, lagoons and beaches etc. was repudiated. As a result, watersides have been blocked off by levees; wetlands, lagoons, canals and ditches have been filled in; and if that proved impossible, the rivers had covers built over them and became under-drains. The result of this policy of rejecting the waterside is symbolized by the state of the Nihonbashi district. Even if the time is finally coming to reassess the value of this area, the removal of its elevated expressway is no easy undertaking.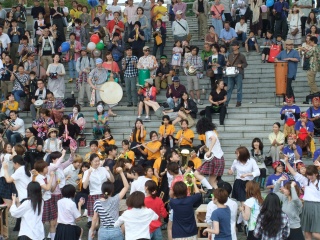 Sumida River Art Project(SRAP)
In 1989 when Asahi Breweries constructed its Flamme d'Or (kin no honou) building on the Sumida River to a design by Philippe Starck, the construction also signified a stimulation to a turnaround in this policy. It was an attempt to cause a stir in urban policy with a huge sculpture – in other words, through the arts and culture. I would not go so far as to say that the increasingly water-friendly nature of the Sumida River district in recent years is the result of this, but I greatly applaud the switch in policy.
Furthermore, in order to support this direction, Asahi Breweries started up the Sumida River Art Project (SRAP) in 2009, which plans an expansion of art-related activities starting with the Flamme d'Or but designed to cover the entire Sumida River area. Eighty years ago, the Sumida River really was a river people swam in, and indeed was home to whitebait. So in the hope of bringing about the river's regeneration, even if it takes eighty more years, Asahi Breweries has declared that SRAP will continue until 2089.
The government must first and foremost rate the pioneering spirit of businesses in terms of cultural creativity. And meantime, businesses will assess the durability of the government. With mutual respect, cooperation between the public and private sectors may be within reach.