We will watch the video, and also read aloud texts related to the video.
Forum for dialog (1) At each location, participants will engage in dialog from the starting point of how they felt when they saw the work or when they said something.
Forum for dialog (2) Both locations will be connected for participants to share the words exchanged at each spot.
---
Subject
We will watch footage from "Under the Wave, On the Ground" (directed by Haruka Komori + Natsumi Seo)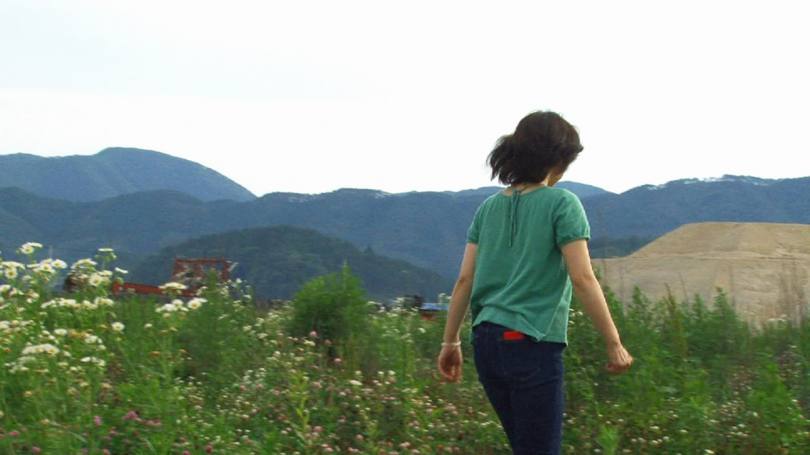 Work: "Under the Wave, On the Ground" (2014/68 minutes)
In 2014, full-scale reconstruction work finally got underway in Rikuzentakata. Before the landscape was redrawn, the film makers walked through the ruins of the city with local people, listening to their stories of memories evoked by different places, and the emotions they were now feeling. From these encounters, Seo created a narrative, revising and rewriting it together with the narrators, and then got them to read it aloud. Guided by their voices and stories, Komori compiled video footage by overlapping the landscapes and times of the city. This is a record of the landscape and the stories left on the ground after the waves retreated.
Directed by: Haruka Komori+ Natsumi Seo
An art unit comprising filmmaker Komori with painter and writer Seo. They began working together after going to the Tohoku coast as volunteers in March 2011. Over three years from 2012, they engaged in creative work while living in Rikuzentakata. In 2015 they formed General Incorporated Association NOOK, an organization which creates records in collaboration with local concerns, and subsequently relocated to Sendai.
They still create works focusing on the documentation of landscapes and people's words, developing forums for dialog in various regions.
---
Relay point
Houkancho, yonchome Lounge Kado(4-7-22 Houkancho, Kitaku, Okayama City, Okayama〒700-0026)
*The Okayama location Lounge Kado is seeking participants for the Okayama dialog session. Please see Lounge Kado's website for details.