In this series we report on how arts and culture have faced up to the challenges of coronavirus in Europe, North America and neighboring countries.
2021/08/02
CASE 01
USA: Changes Wrought by the Pandemic, Changes Progressing Despite the Pandemic
Co-founder of NY Art Beat
Kosuke Fujitaka
Series: Arts on the Globe
In this series we report on how arts and culture have faced up to the challenges of coronavirus in Europe, North America and neighboring countries. We hope it aids understanding of the current state of arts and culture in Japan and Tokyo and helps spark new ideas.
*This scheduled six-part series is supported and supervised by Toshiro Mitsuoka (Professor, Faculty of Communication Studies, Tokyo Keizai University).
---
COVID's arrival and impact on daily life
On March 4, 2020, the VIP preview of New York's foremost art fair, the Armory Show, took place much as it had in previous years. I, too, visited the venue and then went out that night for a most enjoyable dinner with artists from the city and friends who visit the Big Apple every year for the Armory Show. Naturally, the hot topic at dinner was how the COVID-19 situation was going to pan out. Reports of a few people having tested positive for the novel coronavirus in New York State had already started to emerge, but I get the impression that we all still felt as though it was happening far away in Asia and Europe. Within just a week, things in NY had taken an abrupt turn for the worse and on March 15, state governor Andrew Cuomo announced that all schools would be shut from the 16th. The entire state went into an almost complete lockdown on the 20th. Not just art museums and galleries, but even restaurants were closed. The only places left open were supermarkets designated as essential businesses and a small number of restaurants doing takeout. Normally jam-packed, the streets of NY were suddenly devoid of people—so much so that when I went to the supermarket, I felt as though I were the only person still living in the city.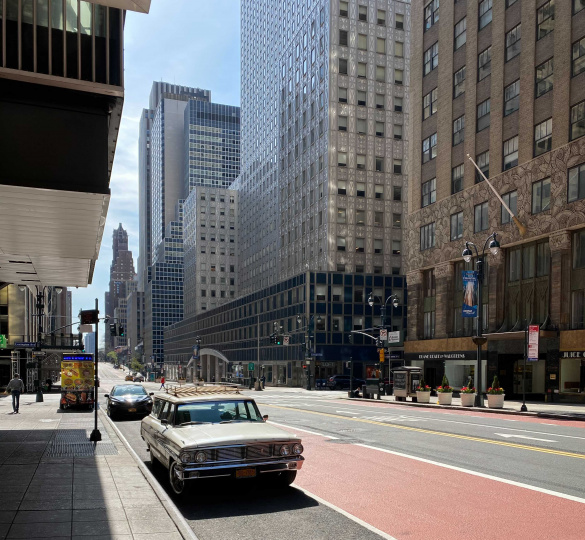 The usually bustling Midtown district was almost deserted
Photograph by the author
A public elementary school in The East Village where my daughter is in the third grade halted all forms of teaching for more than a week while the city's board of education mailed out iPads and Chromebooks to the students. In the third week, teaching resumed via hastily arranged online classes. However, these only covered the bare minimum—things like English and math. Most notably, the school had no specialist art or music teachers and relied on a program under which the city sent artists and musicians to teach the students. These classes stopped completely because of the pandemic and still have not resumed 18 months later.
As New York became Ground Zero for COVID-19 in the U.S. and one of the principal epicenters of the pandemic worldwide, there were endless media reports of increasing case numbers and fatalities. Even though a field hospital was set up in Central Park and the federal government dispatched a naval hospital ship to the city, the medical system remained unable to keep up with the unfamiliar coronavirus. After a major peak in early April, case numbers gradually began to decline and the situation settled down. Even amid the peak, the art world moved swiftly to set up a fundraising project called Pictures for Elmhurst. Following a call from a handful of young New Yorkers working in the art industry, open edition prints of photographs contributed by 100 photographers were sold online for $150, with the proceeds donated to Queens-based medical facility Elmhurst Hospital Center, which was literally like a battlefield after being flooded with the largest number of COVID-19 patients in the city. Figures from not only the art world, but also fashion photography took part, including luminaries such as Thomas Demand and Japanese photographer Rinko Kawauchi. The appeal attracted a sensational response, ultimately raising a total of $1.38 million.
The art scene starts to get back on track
The situation calmed down considerably in June and the lockdown orders on each area were gradually lifted in accordance with strict criteria prescribed by New York State based on several indicators, including patient numbers, the positive test rate, and local hospital capacity. In late July, galleries began to reopen, but rather than unveiling new shows, they were mostly resuming exhibitions that had had to close suddenly in March or presenting group shows by artists on their roster. On July 30, a group of gallery owners in the Lower East Side—known for its up-and-coming galleries—celebrated the resurgence of the arts scene by opening their doors until late for an event called L.E.S. Summer Night. I myself was able to get out to see some exhibitions for the first time in ages and I remember how happy I was to exchange greetings with acquaintances from the arts world, even if it was rather cautiously, from behind the safety of a mask. The summer vacation arrived and instead of going overseas or back home to Japan as we would under normal circumstances, last summer my family and I spent a week at an Airbnb we had rented in a forest near the Catskill Mountains, about two hours' drive from New York City. We really enjoyed the wide-open spaces, particularly after the three of us had been cooped up in a cramped apartment in the heart of the city for four months. Although NYC's art museums were still closed, those on the outskirts of the city were, little by little, starting to reopen. Dia Beacon—a huge art museum with a collection of works by leading artists from the latter half of the 20th century, including Richard Serra, Louise Bourgeois, Michael Heizer, Gerhard Richter, and Kawara On—opened its doors again after switching to admission by advance reservation only. And so, on August 9, I was able to visit an art museum for the first time since lockdown.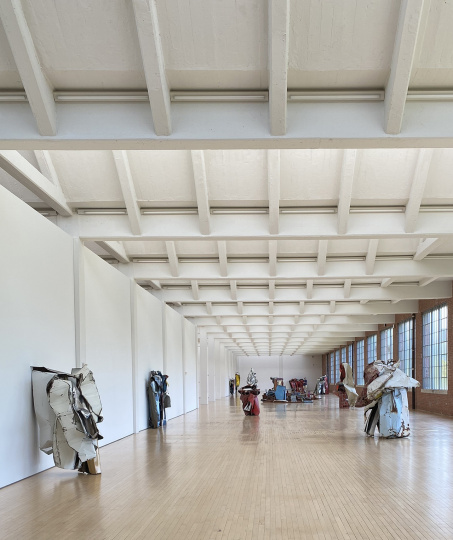 Exhibition at Dia Beacon
Photograph by the author
In the latter half of August, it was announced that schools would reopen for the new semester in September, with a few conditions. My daughter, now in the fourth grade, took half her classes each week online and the other half face to face with her teacher at school. The city's art museums began to reopen, too, at just 25% of their full capacity and with admission by advance reservation only. MoMA opened its doors once more on August 27, followed by the Metropolitan Museum of Art on the 29th. Tickets were hard to obtain for a while afterwards, as art fans from across NY flocked to the museums they had been unable to visit for almost six months. MoMA was particularly hard to get into, because Uniqlo sponsored free tickets for the first month until the end of September. I eventually got my hands on a ticket for September 27 and was able to enjoy wandering around MoMA for the first time in quite a while. Thanks to the 25% capacity limit, the silver lining to the pandemic was having the space to enjoy the masterpieces on display at MoMA and the Metropolitan Museum of Art in a relaxed atmosphere, without the usual crowds surrounding them. However, once New Yorkers' initial enthusiasm wore off, the lack of tourists meant that museums were unable to fill all the available slots, even at weekends, despite the 25% restriction. Not only small and medium-sized art museums, but even the large ones began to lament the crunch in their long-term finances. Nevertheless, although art museums in some U.S. states were unable to reopen for over a year, while many others were forced to close again amid the second and third waves of the pandemic that began in the fall, NY's art museums managed to remain open, albeit with restrictions.
Widespread vaccination of medical personnel and elderly people began in 2021. I myself, in my 40s, received my second shot at the end of April. This has progressively driven down positive test rates and people have returned to the streets as restrictions have been relaxed. At the time of writing, it is the end of June, and the requirement to wear masks in restaurants and other indoor environments has been lifted. So that now leaves the performing arts. Broadway shows, operas, ballets, concerts and the like still have not resumed. However, both the state and the city are providing support and there are plans for outdoor events over the summer, including operas and concerts of all sizes on the city's streets, as well as in Central Park and other parks. Normal indoor performances look set to start back up in September.

Performances are gradually resuming outdoors
Photograph by the author
Returning to front-line reality is fraught with difficulty
Let us now take another look back over the last 18 months of the pandemic. Commercial galleries initially suspended their operations completely, with not only small and medium-sized operators, but even the largest—with galleries across the globe—having no choice but to lay off staff. The sector was dealt a huge blow when such venerable big-name galleries as Metro Pictures and Gavin Brown were forced out of business. However, examining the background to these developments, one can see that there were also more remote causes in the form of the decision by the two founders of Metro Pictures to retire due to advancing age, and Gavin Brown's relocation to bigger premises in Harlem a few years before the pandemic. It would therefore be fair to say that, rather than suddenly compelling them to close, COVID-19 was merely the final straw. Looking at the sector as a whole, it seems that online sales went some—though admittedly, nowhere near all—the way to making up for plummeting turnover due to the temporary shuttering of physical galleries. The gradual shift of art fairs, auctions, and individual galleries onto the internet seem to have spared the art world from the catastrophic economic damage initially envisaged.
Meanwhile, job cuts took place at many art museums, regardless of size. Furloughs were initially concentrated in areas with a comparatively high number of non-regular employees, namely museum guides, security staff, and shop workers. Then, as it started to become apparent in the fall of 2020 that the pandemic was likely to drag on for some time, a growing number of art museums—particularly those on an unstable financial footing—embarked on downsizing programs encompassing also their regular employees, including curators and conservators. However, as many art museums executed their restructuring plans, conflict between management and employees intensified, with campaigns and protests against the job losses being organized. As a result, moves by museum staff to form labor unions to oppose the cuts gathered pace, not only in New York, but also right across the U.S.
While the Black Lives Matter movement was already forming a groundswell even before the pandemic, the murder of George Floyd by a police officer in May last year was the catalyst for sizable demonstrations throughout the U.S. that saw violence break out on the streets of NY and many other cities. This came as a tremendous shock to U.S. society and even triggered major changes among art museums and galleries. A big factor in this is likely to have been the fact that the pandemic-induced closure of art museums and galleries gave many staff the time to think the situation through properly. When these institutions started reopening in the fall, we saw significant changes in both the content of exhibitions and the way in which they were presented. A visibly increasing number of exhibitions featured Black artists and other racial minorities, not to mention female artists, while larger art museums went as far as reorganizing their permanent exhibits and updating explanatory text. Pretty much in parallel with these curatorial shifts, commercial galleries and auctions also substantially changed tack and the market for minority artists grew rapidly. The transformation encompassed not only exhibitions, but also the organizational side, with several reports of directors who had previously demonstrated racist tendencies being compelled to resign. Many art museums also established new departments to promote organizational diversity and a growing number appointed managers from outside the institution to head them. All at once, the social change triggered by the pandemic became an indirect factor in giving explosive momentum to moves that had hitherto been a social undercurrent proceeding at a snail's pace.
The movement of people within the U.S. has already resumed and, little by little, tourists are starting to come back. While the number of travelers from overseas has not yet recovered, I get the feeling that art museums and galleries will see the situation return to pre-pandemic levels sometime during 2022. The majority of laid-off employees will also likely be rehired. Nevertheless, disparities of wealth throughout society have been exacerbated by the novel coronavirus. The art world is no exception. Salaries among art museum directors and other senior management are continuing to rise, whereas front-line staff are being left behind. The situation is just the same at galleries, too. It would be fair to say that one major issue is the question of what form the rectification of these distortions will take—and indeed, whether they will be rectified at all. Furthermore, while the art world has seen a digital shift in many forms, a backlash seems likely, with some already complaining of "Zoom fatigue." Personally, I have developed an even stronger desire to appreciate artworks in the flesh, rather than viewing them in digital form. However, a richer array of information about art looks set to become available online, and blockchain-based technology trends like NFTs*, which seem likely to have a long-term impact on art transactions, are attracting considerable attention. Hopes are high as we look forward to seeing the impact these new digital environments will have on physical artworks and the art world as a whole.
*: NFTs: Non-fungible tokens. Issued on Ethereum and other blockchains after assigning metadata akin to a certificate of ownership to a digital file of an illustration, photograph, video, or other image. As this prevents the digital data itself from being copied or falsified, it enables the owner to prove that the token is unique. In other words, the technology enables digital works to be treated as being as unique as a painting, which was not previously possible.
---
[Editorial Viewpoints]
In this series, I, too, hope to provide perspectives enabling examples from overseas to be leveraged in Japan. I believe this month's report contains two key points.
The first is that the pandemic was simply a catalyst that brought to light the predicament in the realm of art and culture. In other words, New York galleries going out of business and growing disparities on the arts scene had been issues for some time before the pandemic and COVID-19 merely served to expedite their progression. While concern at the plight of the arts sector has been voiced loudly in Japan of late, we need to carefully dissect these arguments to examine whether the problem really is due to the novel coronavirus. This applies just as much to those who support the arts as to those who receive that support.
Nevertheless, something must be done about the immediate hardships being faced and this article reveals perspectives on whether the direction of these efforts should be top-down or bottom-up. Mr. Fujitaka's article provides insights into how individual gallery owners and artists in NY have responded in the face of a transformed social environment. These responses to the pandemic will likely depend on market scale (in the realm of art and culture) and modes of cultural administration in each country and region. I am sure I will have the chance to discuss these points in greater depth upon reading future reports in this series. (Mitsuoka)
---
Related Article