In this series we report on how arts and culture have faced up to the challenges of coronavirus in Europe, North America and neighboring countries.
2021/09/10
CASE02
Art in the Face of COVID-19 – Australia
Contemporary Japanese-Australian Artist Duo "Ken + Julia Yonetani"
Julia Yonetani
Series: Arts on the Globe
In this series we report on how arts and culture have faced up to the challenges of coronavirus in Europe, North America and neighboring countries
*This scheduled six-part series is cooperated and supervised by Toshiro Mitsuoka (Professor, Faculty of Communication Studies, Tokyo Keizai University).
---
"But no wind does blow down right into the Southern Hemisphere from the Northern Hemisphere. If it did we'd all be dead right now."

"I wish we were," she said bitterly. "It's like waiting to be hung."

"Maybe it is. Or maybe it's a period of grace."

Nevil Shute, On the Beach, 1957
History moves slowly, then all at once, and we are all swept up in its tide.
Vanessa Van Ooyen, Director of QUT Art Museum in Brisbane, Australia, sat uncomfortably across from us in pixelated time-space. It was March 16th, 2020, one of many virtual meetings we had had with Vanessa and her curatorial team in preparation for our solo exhibition at the museum, to open on May 22nd. From the beginning of 2020, Ken and I were on an artist residency at Shigaraki Ceramic Cultural Park in Japan making new work that would be exhibited in QUT and elsewhere. Shipping arrangements had been made, travel schedules completed, final proofs for a new bilingual Japanese-English catalogue were underway, and our new work sat in Shigaraki ready for packing.
It was all about to unravel.
Up until mid-March, Australia, still smouldering from devastating bushfires, seemed to have dodged the pandemic bullet. COVID-19 had well and truly arrived at Japan's shores in the form of the Diamond Princess. But acquaintances in Australia seemed to be living a far-off pre-pandemic fantasy: while talking with family in Sydney, cruise ships still floated complacently in and out of Sydney Harbour in the background. Only a few days before our fateful Zoom meeting, Vanessa had flown down to Sydney from Brisbane for the Biennale of Sydney opening, which was attended by members of the art world from across the nation and beyond, overflowing with uninhibited handshakes and abundant champagne.
Yet as Paul Virilio noted in what I recently have come to appreciate as an eerily prophetic interview published in 2012, in this contemporary time of "general panic," where fear is omnipresent and in turn administered in the name of Progress, the sudden globalization of affects in real time hits all of humanity concurrently *1. Australia was comparatively isolated but not immune, either to the virus or to the all-pervasive sense of general panic that it aroused. This public health threat in turn would come to justify extreme and lasting measures.
On the morning of March 16th, we got a rushed email from Vanessa. "Do you have time to Zoom? I have just come out of a meeting with university execs…" The atmosphere had completely changed. The university campus was closed. Decisions had to be made. There was no way our show could open as planned.
Around this time, the tables turned. In contrast to Tokyo, where politicians still dithered, Canberra was all action. On 20th March 2020, Australia closed it borders to all non-residents and non-citizens. Australian citizens were strongly advised to return to "their country" as soon as possible. Citizens and residents within Australia were also restricted from leaving. It was the beginning of what those critical of the policy would come to term "Fortress Australia," whereby movement became severely inhibited both inside and out, with mandatory self-funded quarantine and strict limitations in numbers of returnees. Individual states and territories also started closing their borders to each other, and enforcing their own lockdown laws. In the space of one week, the Australian art world went from international art vernissage to human biosecurity emergency.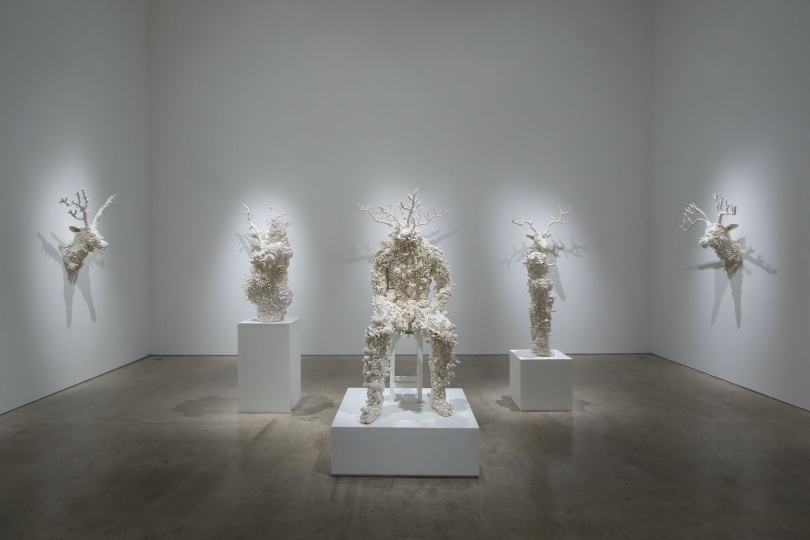 "Dysbiotica" installation view, 2020, Mizuma Art Gallery
Photography by MIYAJIMA Kei
©︎Ken+ Julia Yonetani, Courtesy of Mizuma Art Gallery
The theme of the new work we produced at Shigaraki, which to this day is yet to be exhibited anywhere in Australia, was, ironically, microorganisms and the human body. We had named this series of works Dysbiotica, a word we invented from the term dysbiosis, meaning a breakdown in the balance of microbial systems. We sensed from organic farming in Kyoto and from research into coral bleaching that the ecology of microorganisms was fundamentally vital to both the ecology of the planet and to human health. In 2019, thanks to researchers at QUT, we had the opportunity to glimpse into our own microbiome and discover its mind/body connections. Advances in gene technology have given humans the ability to tweak with natural systems like never before. Ironically, it has also given us scientific confirmation that, through our own human microbiome, we are inextricably a part of the natural systems we are destroying.
The Australian Government's "aggressive suppression" strategy against the virus seemed to work, in the sense that COVID-19 cases were largely contained for at least a time. It cannot be assumed, however, that a lack of cases also meant that Australia's art industry was largely sheltered from impact. According to a National Association for Visual Arts (NAVA) survey, already by May 2020, $50m in losses had affected 39,027 artists and 475 small-to-medium organisations via 9,827 event cancellations *2. Funding bodies, in particular the Australia Council for the Arts, sought to respond but were already facing their own financial crisis, one that began years prior, when they were stripped of a large portion of their budget.
Australian visual artists active internationally were obviously directly impacted. Our friends Claire Healy and Sean Cordeiro for example, who were also in the Venice Biennale in 2009 with Ken, were unable to visit Japan for an artist residency lined up in Niigata, or to install their work at Oku Noto Triennale.*3 Melbourne based artist Nasim Nasr, who planned to travel to New York to participate in the inaugural Asia Society Triennial, as did we, could not attend or participate in a planned artist residency there. Neither was the impact spread evenly across the nation. As Nasim recounts, "Melbourne experienced two lengthy lockdowns in 2020 where practically everything was closed and we were confined to our houses, the overall situation was much worse here than anywhere else in Australia…" *4 In the Blue Mountains, where Ken and I used to live, the community was already reeling from the devastating 2020 bush fires. In the words of artist and friend Freedom Wilson, the transferral of artistic engagement to online spectacle as a result of COVID policies "dulled the space for creative people to connect, reenergise and support each other in the wake of these harrowing events." *5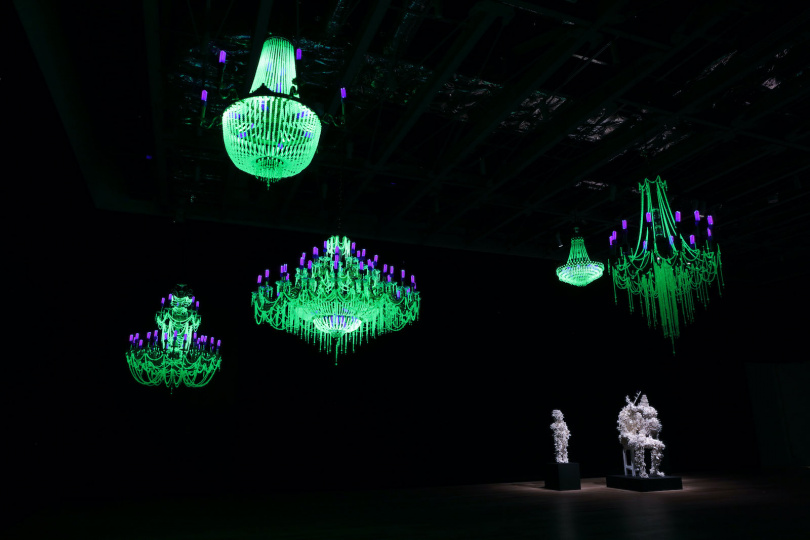 "Ken+ Julia Yonetani:That is why I want to be saved" installation view, 2020, Kadokawa Culture Museum
Photography by MIYAJIMA Kei
©︎Ken+ Julia Yonetani, Courtesy of Kadokawa Culture Museum
In June 2020, we published our catalogue Dysbiotica, even though the QUT exhibition is still yet to take place (fingers crossed for 2022!). The introductory essay to the catalogue, written by Japanese writer Taguchi Randy, was entitled "On the Beach," in reference to the post-apocalyptic novel written by Nevil Shute in 1957, which was also turned into the movie classic of 1959 of the same name. The original 1950s story On the Beach detailed the lives of a group of people in Melbourne who wait out the coming nuclear holocaust. In my mind, completely coincidentally and not directly related to Taguchi's essay, the atmosphere of mundane domesticity combined with an unbearable sense of foreboding that imbues Shute's novel, became real-time Australia in the era of COVID. People largely going about their life, seemingly unaffected, yet forever fearful: of another snap lockdown; of a new "breakthrough" variant; of travelers returning from countries where the virus was "rampant;" of people "breaching" their "stay-at-home orders;" of the inevitable rise in cases of "local transmission."
The more "normal" life seemed the more it was overwhelmed by waves of angst, crashing at the ever-eroding coast. What is being swept away, as we cling to the Herculean task of "staying safe"? In the words of Virilio: "One thing that is clear about security is that the most reasonable hells are created for the best reasons in the world. Public health and security end up devouring everything." *6
*6: Paul Virilio The Administration of Fear, p. 91.
---
Editorial Viewpoints
This column details the influence of the pandemic from the perspective of an artist based in Australia and Japan. In common with the concept behind Ken + Julia Yonetani's own solo exhibition "Dysbiotica," it makes us think again about a sense of the larger societal net in which art/artists are enmeshed.
The postponement of the duo's solo exhibition at Queensland University of Technology's Art Museum was part of the university's response to coronavirus (probably based on government guidelines) rather than a measure targeting art. Similarly, although Ken and Julia had already been able to do a residency in Shigaraki, many artists on residency programs were forced to change their plans. This is not because artists were not able to move around, but because restrictions on international movement were imposed on society as a whole. In other words, policies aimed at optimizing society overall do not necessarily work for the lower rungs of society, including arts and culture. When faced with this obvious fact, you realize the necessity of reexamining the circumstances in which various systems such as the designated administrator system which people in the field of arts and culture have understood as measures targeting that area came to be developed in the process of optimizing society outside the sector. (Mitsuoka)
---
Related Article