Announcement: Appointment of New Director General
Arts Council Tokyo (Tokyo Metropolitan Foundation for History and Culture) is pleased to announce the appointment of Masanori Aoyagi as the new Director General, effective April 1, 2022.
Arts Council Tokyo, an organization established in 2012 with the aim of realizing Tokyo's status as an international city of arts and culture, celebrates its tenth anniversary this year. During this time, we have developed and rolled out a variety of projects and programs, including those centering on grant programs supporting artistic and cultural activities, the provision of opportunities for as many people as possible to participate and enjoy hands-on experiences, and training programs designed to cultivate future talent and leaders in arts and culture.
We have recently held a variety of programs collectively called "Tokyo Tokyo FESTIVAL," when the eyes of the world were on Tokyo in 2021. In order to carry on this legacy, under its new management Arts Council Tokyo will support and develop Tokyo's art scene and promote Tokyo's appeal through arts and culture.
---
On this appointment
As of April 1, 2022, I am appointed Director General of Arts Council Tokyo (Tokyo Metropolitan Foundation for History and Culture).
In this era of uncertainty, we have thought about the significance of arts and culture in society and confronted the associated challenges. However, it is not all about pessimism; we have also been able to find opportunities such as the expansion of the possibilities of new forms of expression. As well as realizing the importance of everyday life which we took for granted, we might be able to view this as an opportunity to reconsider our own way of life and the way our society operates.
Tokyo has plenty of potential in terms of arts and culture, and this is why we will concentrate our efforts towards the hopeful next generation, so that the functions of Arts Council enable further flowering of the huge potential inherent in arts and culture.
I thank you in advance for your cooperation.
New Director General Profile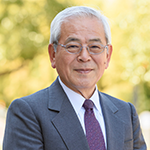 Masanori Aoyagi
Born in 1944 in Dalian. Specializes in the art and archaeology of ancient Rome. His previous roles have included Professor, Graduate School of Humanities and Sociology / Faculty of Letters, University of Tokyo; Director of the National Museum of Western Art; Commissioner of the Agency for Cultural Affairs; and Chairman, Tokyo 2020 Culture and Education Commission. He is currently Professor Emeritus of the University of Tokyo; member of The Japan Academy; Director of Yamanashi Prefectural Museum of Art; Chairman of Board of Directors, Tama Art University; President of Archaeological Institute of Kashihara, Nara Prefecture; Director of Ishikawa Prefectural Museum of Art, and more. He has been involved in excavations on ancient Roman ruins in Italy for fifty years.
In Japan he has received the Collegium Mediterranistarum Award (1978); the Premio Marco Polo (1991); Hamada Seiryo Prize (1991); Mainichi Publishing Culture Award (1993); Medal with Purple Ribbon (2006); the NHK Broadcast Cultural Award (2011); The Order of the Sacred Treasure (2017), and more, as well as recognition as a Person of Cultural Merit (2021).
Overseas awards include Italy's "Porto Empedocle" (1984); Ordine al merito della Repubblica Italiana (2002); the international award "Sebetia-Ter" from Italy (2008); the Torquato Tasso award (2017) also from Italy; and the international archaeology prize, Amedeo Maiuri (2019).
Published works include "Kotei-tachi no miyako roma" (Rome, City of Emperors), "Roma Teikoku" (Imperial Rome), "Bunka Rikkoku-ron" (Theory of a nation built on culture), and "Jinrui bunmei no reimei to kuregata" (The dawn and sunset of human civilization).