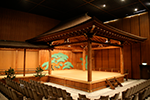 Roppeita XIV Commemorative Foundation
This organization manages and operates Kita Noh Theatre, home of the Kita Noh School, one of the five Shite Kata Schools of Noh which goes back around 450 years. At the same time, it rolls out a wide range of activities promoting Noh to beginners, children, non-Japanese and people with disabilities, including regular performances by the Kita School. Moreover, in 2019 it signed a partnership agreement with Shinagawa-ku, and now plays the role of a base for cultural promotion in the area.
http://kita-noh.com/


Genichi Shimizu
Director of Kita Noh Theatre. On the occasion of his appointment in 2013, the Foundation began implementing sponsored projects and activities. In addition to planning and producing projects promoting Noh, he is tasked with developing external activities including tie-ups with local governing bodies and community organizations, fundraising and more.


Teruhisa Oshima
Noh actor of the Shite Kata Kita School. Born in 1976 in Fukuyama, Hiroshima Prefecture. He made his stage debut aged three in the Shimai "Shojo". He went on to perform in classical Noh pieces including "Shojomidare," "Dojoji," "Shakkyo," "Okina," and "Mochizuki". He has appeared in numerous overseas performances in the United States, Europe, Asia and elsewhere. In recent years he has performed English-language Noh entirely in English. He also appears in "Noh performance in Japanese Sign Language" in which Noh dialogue is expressed in Japanese sign language. He also enthusiastically engages in activities that explore new possibilities for Noh, such as appearing in ground-breaking performances like VR-based Noh and 3D-based Noh that use cutting-edge video technology, and taking charge of planning and production.


Chikanari Miyake
Kyogen actor of the Izumi School, born in 1985. Studied under his father, Ukon Miyake. His grandfather was the late Tokuro Miyake the 9th, a Living National Treasure. Aged three, he made his stage debut in "Koji-dawara". In 2004 he appeared in "Sanbaso", in 2007 in "Tsuri-gitsune", in "Kanaoka" in 2012, and in "Hanago" in 2015. He has taught Kyogen in Japanese sign language to the Japanese Theatre of the Deaf for many years.
Facilitator



Tomonori Ogawa
Director of NPO ST Spot Yokohama since 2014, in charge of projects connecting education, welfare, community, and art-related environments. Since 1999 he has been involved in the planning and production of projects and activities promoting the arts. His focus is the revitalization of the nonprofit sector, for example his involvement in intermediate support organizations in the field of art.
Graphic Facilitator



Junko Shimizu
After graduating from the Department of Information Design at Tama Art University in 2009, in 2013 she began work and research in "graphic recording," a method of visualizing discussion, as a member of the "Tokyo Graphic Recorder" project. In the same year she joined Yahoo! Japan as a UX designer. In 2019 she completed Master's course from the Department of DESIGN, Tokyo University of the Arts. She is currently a lecturer in the Department of Information Design at Tama Art University. She studies visual language from the perspective of media design. Her publications include "Graphic Recorder – giron wo kashika suru gurafikku rekodingu no kyokasho (Graphic Recorder – A Textbook for Graphic Recording to Visualize Discussions)."
https://4mimimizu.net/