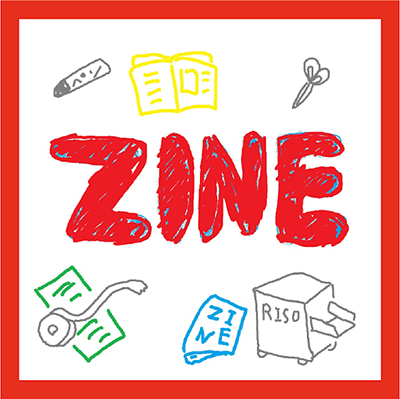 Descriptions of a favorite book; music recommendations; photos on your smartphone. Why do you like these? Why do they interest you? Together with another person you will delve into the things you like and which interest you and compile them as a ZINE booklet.
There is no set way to make a ZINE. As well as usable equipment/tools supplied by Fan Fan, you are free to bring in any equipment or material you like and to take your time producing your ZINE. When you create a ZINE looking at other ZINES as reference and working with your hands as you chat to other participants, that one ZINE is sure to lead to varied interaction and discovery.
Date/time:Sunday, November 19, 2023 13:00-16:00
Participation fee:2,000yen
Capacity:4(first-come-first-served basis priority, given to those with advance reservations)
How to participate: please use the application form here.
Equipment/tools you can use:paper, colored pencils, markers, pens, colored paper, scissors, box cutters, glue, masking tape, and a Risograph.
Other
-ZINES will be created using A4 size paper
-ZINES will be created by hand, or by using a Risograph
-The Risograph can print up to 6 pages. (Example: Front and back printing of 3 x A4 size pieces of paper)
-You can choose two out of five colors of ink (black, red, blue, green, yellow)
-You can take home up to ten Risograph printed sheets (this may vary depending on the ZINE shape). Please note we will keep one copy at Fantasia! Fantasia! Office.
-You can choose from several types of paper available at the event.
-You may also bring in pre-prepared material such as hand-drawn illustrations, photographs, and digital data you want to print out.
-We would appreciate it if you could give us newspapers, magazines, flyers etc. that are no longer needed which we can use as material.