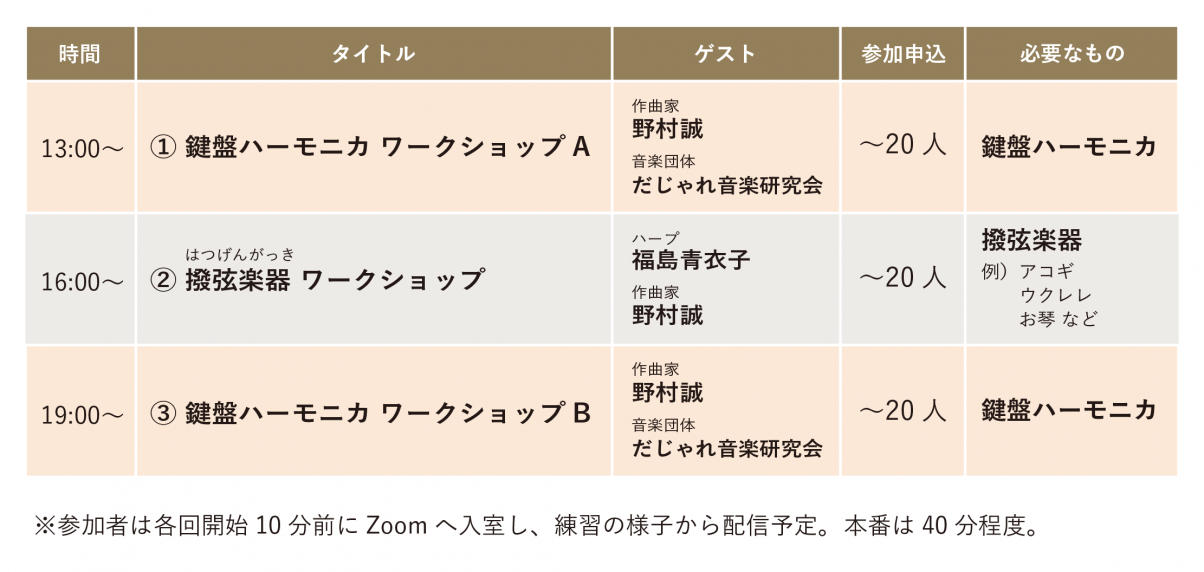 13:00 –
1.Melodica workshop A
Guests: Makoto Nomura (composer), Pun Music Study Group (musical group)
Applicants: up to 20
What you need: A melodica
16:00 –
2.Plucked string instruments workshop
Guests: Seiko Fukushima (harpist), Makoto Nomura (composer)
Applicants: Up to 20
What you need: A plucked string instrument (acoustic guitar, ukulele, koto, etc.)
19:00 –
3.Melodica workshop B
Guests: Makoto Nomura (composer), Pun Music Study Group (musical group)
Applicants: up to 20
What you need: A melodica
*Participants should join Zoom events 10 minutes before the start of each session, which we plan to stream from the practice stage. The events will last about 40 minutes.
Guests will be composer Makoto Nomura and harpist Seiko Fukushima.
We will be holding a pre-event briefing session on the day for people who are unsure about using Zoom.
This is a chance for your sounds, and footage of you, to appear in a video to go on general release in March 2021.
You may also join the 40-minute online workshops with musical instruments you have made yourself, e.g. participating in the plucked string instruments workshop with a handmade "ReGiOn" from the Day 1 event.
Open for anyone of any age to enjoy, no experience with musical instruments necessary
To be streamed on the day on the official YouTube channel for Art Access Adachi: Downtown Senju program.
*Please see below regarding participation in performances.